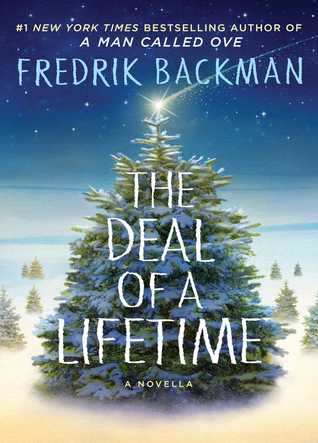 Source: Goodreads.com
The Deal of a Lifetime
by Fredrik Backman
Publication Date:
October 31st, 2017
Summary:
This is an illustrated short-story written by the same author that wrote A Man Called Ove. The story is from the point of view of a man telling his son a story on Christmas Eve. He opens by telling his son that he has taken a life, but will not say whose life yet. A week before this story telling takes place, the father met a little girl with cancer in a hospital. As he describes this girl, he ends up describing more about himself, career, family, and legacy. He eventually is given the chance to save this girl's life, but before doing so he wants to tell his son the whole story.
·
The illustrations added a nice amount of whimsy and contributed to the Christmas setting.
·
I love how the story gives the main character a chance at saving another person's life; I can't say much more about that without spoiling the story. But I liked the mechanics of it.
·
It's Fredrick Backman. So far, I have loved his writing in all of his books. He has the ability to be straight-forward, pull you in, and play with your emotions.
·
I know it is supposed to be a short story, but it was too short! I read the Kindle version, which told me I was only 56% done when the story ended. The rest of the Kindle version was a preview of his book Beartown.
·
I feel like some of the points could have been explored so much more; perhaps this was the author's intent? It left me with more questions than answers. I suppose this is both good and bad; I'm still thinking about the story weeks after I read it!
·
Something just felt like it was missing; I'm not sure if it is due to the length, or the word choices…It just felt like it was missing the mark.
·
As a fan of Fredrik Backman, I enjoyed this short story. Although, I wouldn't bother buying a physical copy of the book. Renting the e-book from my library was sufficient. The story definitely made me think, but led to more frustration because I feel like I'm missing something. Definitely check it out if you want to read all of the author's works, but skip it if you aren't already hooked on his style.